Ken's Bar is widely known to have a broad range of bourbon whiskies and attracts not only local fans here in Japan but also from abroad, including the U.S. From a recent visit to the Bar, I learned among them were tourists from the bourbon-producing States such as Kentucky. Those fans are coming here to the bottles like selected single casks that are hard to get even in their own country.
This Bar was run by the master Mr. Matsuyama, an elderly gentleman, and specialist in selecting bourbon casks and producing his own labeled private bottles that have won many medals in professional tasting competitions. He has explained to me his knowledge of all the kinds of bourbon bottles stocked in his Bar and arranged nice shots from his produced brands, Ken's choice, as pictured in the images; they have each musical instrument labeled on the bottle and hints the taste of the liquid inside. For example, I picked up a "drum," representing a lousy bourbon flavor. Another one I picked was a "vocal," which probably means it contains a mixture of tastes, like a beautiful ballad song. The lousiness of the spirit is precisely what I like most, and I did not need a second to think about this bottle. I quite like this one.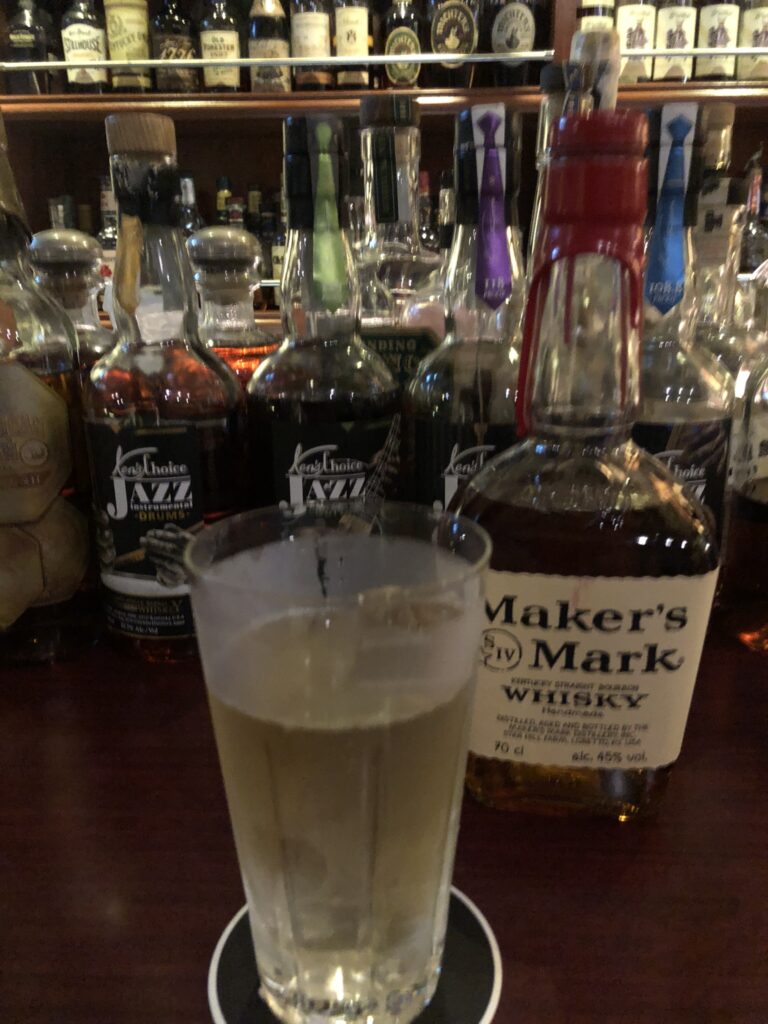 As always with visiting bars, I have so much enjoyed the conversation with the master, who eloquently speak about his unique experience in past visits to the distilleries in the States. Unfortunately, he has not been able to visit there, but finally, in this early summer, he is now looking forward to having a trip there. He will try to bring back the new bottles from the bourbon distilleries with which he has a good relationship. At his age, probably around 70, he looked pretty sound and healthy and seemed willing to make more travels ahead. We expect to see more updates on his selected bottles back in the Bar upon his return.
The Bar sits in the somewhat silent district near Ginza. You can probably take a walk from any neighboring stations, like Tokyo or Yurakucho Station, maybe taking a cab from the above stations would be easier if you have no geographical clues on neighboring areas since it is just the streets with business buildings and no such suitable landmarks that make easier to navigate through. The Bar was open from 6 PM. Mainly just seats on the counter, so recommended to have a visit in lesser people, a large group will not be welcomed. The credit card was accepted.