Ebisu(恵比寿), currently getting a hot spot among youngsters, sits only one station away from Shibuya on the Yamanote line. The place was named after a beer factory for the Sapporo Beer company, and the Ebisu factory produced an iconic Ebisu beer. It ended production in 1988. After the closure of the factory, the site was reborn with a modern shopping center(Ebisu Garden Place) surrounded by cozy restaurants and bars, a contemporary art museum, and up-to-date shops.
You are walking down the sky corridor from the station, passing through Ebisu Garden Place, then crossing the bridge on the Yamanote line on your right. And you turn left after meeting a street in Meguro's direction; along the road on your right side, there is a hidden bar on the second floor of a building. The only way to find the bar is to look closely at the entrance of the building. The staircases are lit up from the bottom and invite you to the upper floor.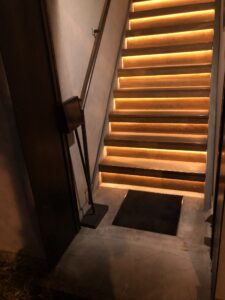 It should be an adventure for anyone on their first visit to the Ebisu area. It's lucky if you can find it on your first try. When you reach the upper floor, you will be amazed by the nicety of the bar run by a friendly owner. The interior is elegantly organized. Several high-stool seats are on the counter, and a spacious sofa table is also available. It is OK to come alone to sit silently or with a group to enjoy good talks.
The bar offers refined service. Selected drinks you can enjoy with composed music and lovely contemporary art hung on the walls. When I visited for the first time, it aired music played by a Pakistani jazz artist. Records of a famous Ethiopian pianist Tsege Gebru were placed on the shelf behind the counter. Such is the atmosphere you sit at the counter when enjoying your drinks.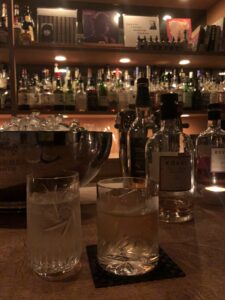 Ebisu area is quite known for music bars. It attracts musicians, artists, and people who engage in such business, not a type of area that hosts uniformly same-styled salary-man people. So you get a bit different side of Tokyo compared to the noisy hustling Shibuya or Shinjuku. And you have plenty of chances to find this kind of nice bar hidden somewhere in nowhere. Try your luck and come to visit a unique experience, maybe after finishing a wild adventure in Shibuya crossings and all the shopping you aimed finished.