Deep inside the quarter of Kabukicho, nestles night bars and clubs, guys wearing all in black and girls in anime costumes stand side by side to eye on each passers-by trying to bring into their shop, "the way-out of memory" (Omoide no Nukemichi) sits quietly among the busy corner of this town. It indicates the named narrow passage that goes through buildings and the plot along the route. An entrance to this plot is difficult to find. You need closer attention, and once in, you can see that tiny bars and izakaya sit together; some are like a booth seemingly only capable of accommodating a few guests, creating their unique atmosphere, separated from the neighboring area, as if walking through an old downtown in Shanghai. Indeed, there are several Chinese restaurants locals run, and it feels like you are outside of Japan.
Located somewhere in the center of this plot, a nice-looking Mexican-style bar stands in a corner. The shop's sign, lit brightly, reads that this is a Mexican bar. Entering the bar, I encountered a brightly smiling lady, Kyon-san, a dancer by profession, just about to take a photo of a tequila bottle on the counter before the opening for updating on the shop's channel. Kyon-san waved and offered me a seat in her front while focusing on the photo session. Besides the tequila bottles on the shelf, I noticed a bunch of maracas on the ceiling. Kyon-san, a dancer, said the guests here drink and sing with maracas, maybe dancing. A pop song from the stereo was from an album by a Cuban singer, Gloria Estefan. I listened to her songs a lot while in the States, and the memory suddenly came out.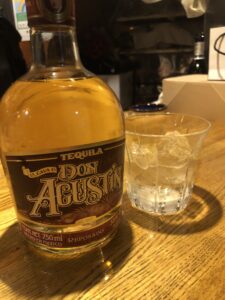 The plot and the bar are probably hard to reach for the first time in the Kabukicho area. And as it is not such a place to knock on each door until finding the right one, I will not recommend it to anyone who comes here for traveling. But an exciting place to check out if you dare to experience the area and walk in the bar. It opens somewhat late at night (after 21:00 or so). Schedules are not tightly fixed, as she is currently only the one who stands behind the counter. Try your luck and stay safe!
"the way-out of memory" (Omoide no Nukemichi)