Here is the perfect spot to feel the nostalgia of the late Showa period in Japan or around the 1970s. Nowadays, you can hardly find a place in Tokyo where they keep demolishing the old and replacing it with another, to be where you feel back in the olden days.
This bar Kuro in Shinjuku Golden Gai gives a perfect atmosphere that makes you feel like being in the late Showa period (whose time I slightly remember because I was not born in the 1970s, and only the movie from Youtube acknowledges me of the time.), with its antique-style interior, slightly lit by the light above on the counter. Old-time music aired, slowly shaking the space.
I hear that this bar, Kuro, is known to many travelers from overseas. It makes sense at a glance when entering here by noticing many pinned notes on the wall behind it. It was run by a lady who started this bar and created this fantastic place but unfortunately passed away.
Luckily it was inherited by her son, and now he runs the bar, preserving the nostalgic atmosphere of the space as it was. A taste for music and favorite liquor might differ from the previous owner or his mother; the cozy hideout space remains as before.
The reason I come here is a simple one. Come and listen to the melody of Ishihara Yujiro, a big star in the late Showa period. Before coming to this bar for the first time, I had never known about him properly and his song being played. (by the way, they have a good sound system installed)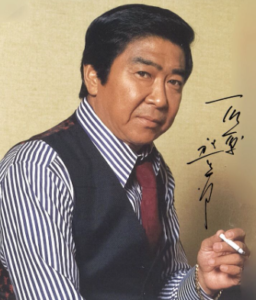 I learned about his singing and did so beautifully after listening to the extensive collections of his records, most of which are not probably not available. He is so talented at whispering softly in between when he sings, which makes you feel he is singing right in front of you. To me, this place is really a time-traveling space. I feel like I went back to the past, sitting on some bar counter and listening to his songs.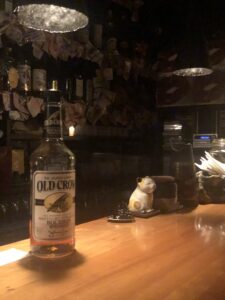 For such a place like here, Old Crow is the best drink. The oldest bourbon with ice on your glass is a perfect match. Its history goes back to the age of the civil war in the United States and is loved by General Ulysses S. Grant. When served on the counter, the golden liquid shines like amber and seems to mirror and recall the scenery of forgotten days.
The bar Kuro is located in the Golden Gai district. Follow the passage called Ichiban-gai. It's next to a parking lot. Look for the black door. (Kuro in Japanese means "black," although the bar name Kuro is written in different Chinese characters, so it means something else.) No cover charge, and cash on delivery.