Three reasons why you need to visit Golde Gai. First and foremost, people are super friendly here. If you first visit Japan, you might have an impression that people here are shy and try to avoid foreign people as if there are wild animals. Well, you can forget about such worries here because everyone you see around here is wired and drunk. Sorry, I always make a joke which sometimes makes people upset. The good news is, if it gets annoying, you have a button to shut up on your screen.
Anyway, my point is that people here are so lovely that they accept all kinds of people. Golden Gai was known primarily among artists, writers, and musicians. It is pretty different from what you see around in the center of Tokyo, flooded with similarly costumed business people. Black dress, with dark colored bags, and dark shoes. You feel a bit away from such a Matrix-style world.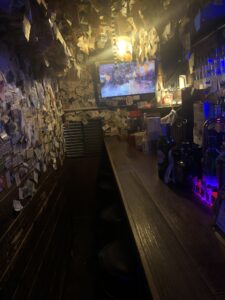 The second good news is that English is the second openly spoken language here. Well, maybe it sounds natural instead of saying that Swahili is the second language spoken. If you have not yet encountered trouble ordering a drink in a cafe, perhaps you are lucky. I sometimes see one happening in Starbucks, but this is Japan. We take English courses from childhood to college, and we like to use written alphabet letters to make things look cool, but we do not use English, maybe outside school.
Go Visit Shinjuku Golden Gai!!!
Third, we have small bars that count more than three hundred in such a tiny space. You do not need to look around places walking around to find one you like. Here some steps are already enough. Every bar has its style, history, and regular clients. All make each unique and singular for each bar to attract more visitors, including people coming from outside of Japan. So come and visit Golden Gai! Infuse yourself into the melting pot of variety and characters! You may also check blog notes on my favored bars.