After a meeting with client on Friday evening, I was looking up for a nice bar to refresh, and came to my mind one place I was recommended from last bar I visited, and this is the bar I stop today "J's Bar," just a few minutes' walk from north-west exit of Ikebukuro terminal.
Stepped on staircases leading a way on upper floor of some shabby building, I was, as many times I have already experienced, amazed by the look of interior, high counter bar with several stools, and all whiskies laid on the shelf behind. Master was quite handsome guy with beard, and a girl in 20s with astonishing knowledge on whisky, especially at her age. And of course, the master was quite intellectual, easy to talk, and knows everything on his hands.
Actually I say this bar is definitely for whisky lovers, and for novices or starters, I can also recommend to join, because the people here look very friendly, know each other well, so you just need to ask bartenders, or see around people you sit next with, and make your choice. On this occasion, I also attended with interesting visitors, like a bartender working at luxury hotel in Tokyo, a sales assistant at well-known liquor shop, both young and nice, and with a regularly coming business person. With the guy, it was very funny to observe. Right after his taking a place next to me, the beard master came and started lining up "updated" bottles in front of him, one by one, with few remarks to explain when he placed a bottle. Both seemed quite enjoying doing this "rituals."
Anyway, chatting with people around I have tried quite many shots from all interesting bottles, and costed around 1,000yen each. They also offer a "set" discount when you select 3 bottles from specific areas (basically on counter and first level of their shelf), you get discounted in total, and becomes like 2,500yen. I did not really follow up this discount, and chose basically what I wanted, feeling still very reasonable. Tried BenRomach, old and new labelled bottles, and one from Allt-A-Bhainne, also very interesting single cask vintage bottles from the Maltman, Grengrant 23yo and Inchgower 18yo.
I am not so adept at commenting on tastes, but they are all great. Usually first time visit and with people, I cannot really remember how each tasted, still it was a fun to drink and share comments with someone while you drink, (sometime I fall into such situation that I sit alone and focus on tasting, and both are fine to me)
One good finding today was I met a good Japanese whisky, "single malt The First" is from the Mars Tsunuki, south Japan.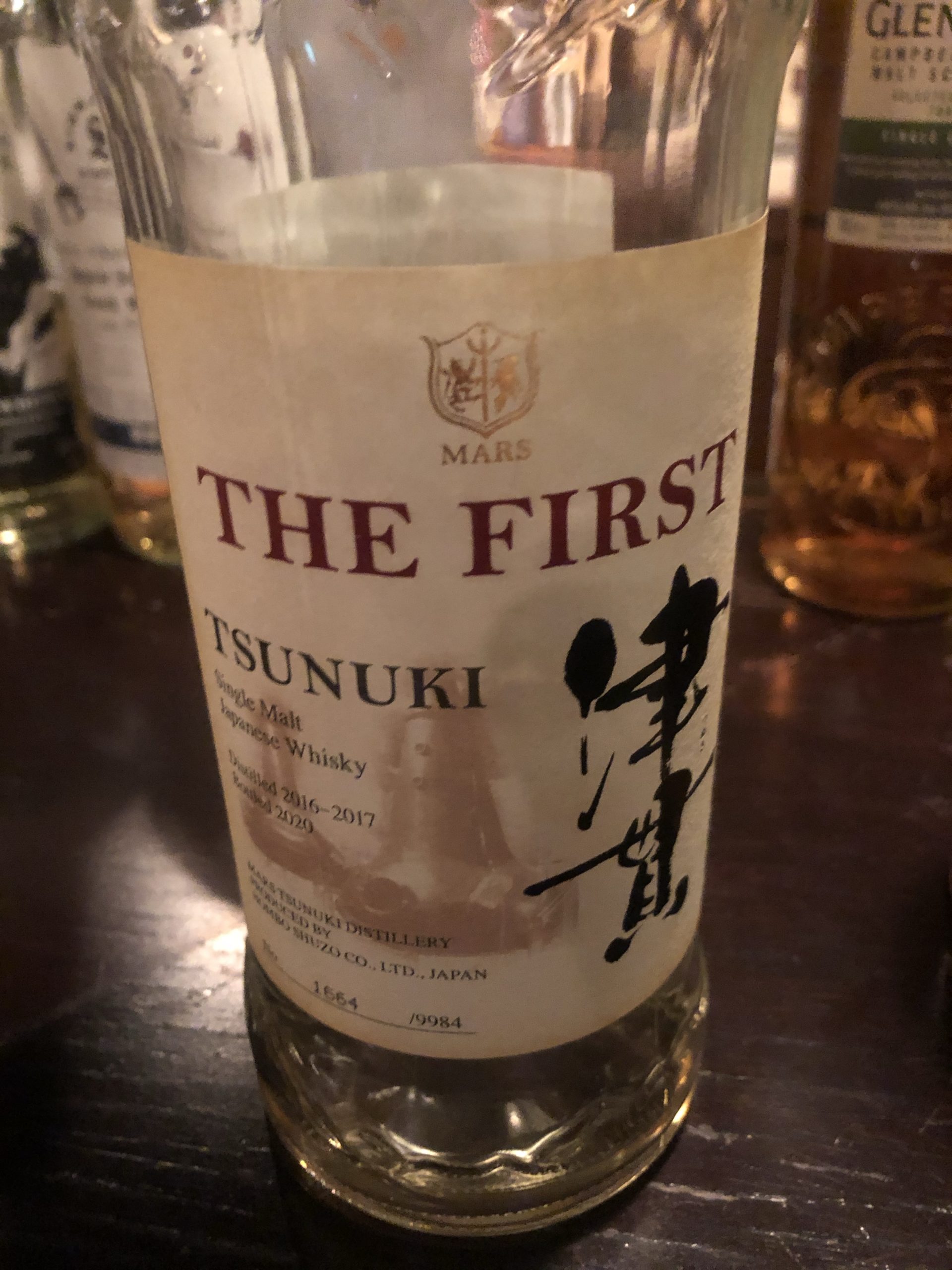 Some newmakes of recent craft distillers here in Japan only gives me an impression of weak and pale in character, but this one, only aged 3 years, has strong body and feeling o well-made scotch whisky, kind of reminded of mellowly and caramel kind of character of Taiwanese Kavalan, maybe due to faster maturation in casks from their location where yearly temperature is warmer than average in Japan. Unfortunately, the bottles of this batch were all sold out, so very lucky if you could still see some left when you visit here.
Last note, smoking is ok, may come alone or a couple, but maybe not in a group since it is very small bar. Here opens from 6:00pm, seems one of very popular bar in this neighbor, and visited by many regular customers, so maybe lucky if you could get a seat or try come earlier.